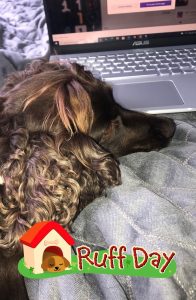 We had a great start to the month, everything was running smoothly in the office, a bit to smoothly… then COVID hit us! A member of staff had tested positive, so we all know what that means by now! Off home we go and set up our new offices for the next 10 days!
Personally, working from home for me was fun to start with, although I did miss the office, I enjoyed certain benefits that came with working from home, including the little extra lie in because there was no commute, going to work in my comfies, but most importantly working with my dog by my side (I think she enjoyed me working from home also). But once the novelty had worn off, I just wanted to be back with the team in the office again having giggles.
Throughout the whole of isolation, we still carried on pulling together as a team, communicating daily and making sure everyone was doing ok and managing to stay sane because we couldn't leave our houses!
But working from home soon come to an end, and we have all safely returned to the office! Other than Chele, but don't worry she has gone camping so she'll be back soon!
Talking of Chele I have some exciting news for you…
Michele has been on the radio! MD of Acorn Support Claire Lawton has been given her very own radio show on Black Country Xtra, she has a slot once a month, 4th Tuesday of the month, in the drive time slot, 5pm -6pm- which is perfect for the commute home!
Michele discussed how I'm Your PA has grown over the years, and how the business started in Michele's back bedroom and has now moved into a dedicated office space which has facilitated the growth of her business. How the move allowed extra space for more employees, which included 10 Kickstart employees. The Kickstart Scheme is a government scheme to help those who are unemployed aged between 16-24 get valuable work experience. Michele also talks to Claire about the process of bringing the team in and developing their skills further.
Remember! We are still taking on projects for our Kickstart employees to do, so if there is some support that we can give to your business, get in touch with Michele or James (michele@imyourpa.co.uk or james@imyourpa.co.uk ) let's see if we can help.