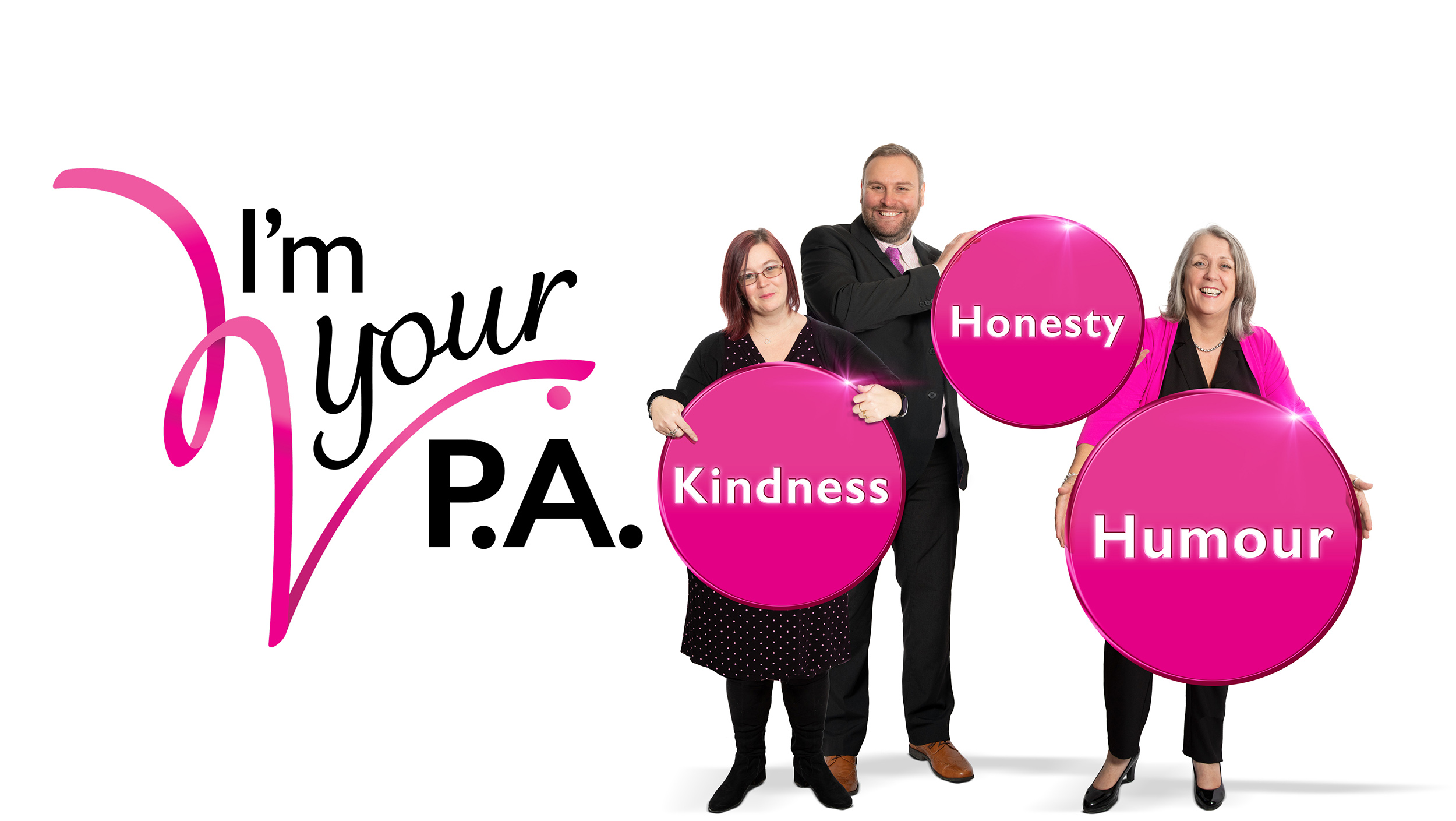 How valuable is your time?
Are you losing out on business because you miss calls?
Or because you're too exhausted at the end of the day to follow up on your enquiries?
Do you spend your days spinning plates and thinking "there must be a better way of doing this"?
Welcome to I'm Your P.A.
The virtual assistant company that likes to make you smile.
What would you do if we gave you your day back?
Spend it with your family? Friends? On the golf course or just out having fun?
It could even free you up to work on your business and not in it. What would that be like?
I'm Your PA gives you time back.
We will ensure you never miss a call. We will book your appointments. We will follow up on your quotes so you close more business.
We will even chase invoices to help your cashflow.
Taking on a virtual assistant is a big step. We get that. You can use us for as little or as much as you want.
A few hours a week or just a few minutes a month – we'll work with you to make it happen.
We believe honesty, kindness and a touch of humour are important. Working should be fun, an enjoyable experience. Not full of hassles.


Diary Management Services


Customer Relationship Management

Download our ebook today and learn how not to be a slave to your business!
NM FINANCE
I am writing to express my sincere thanks for the telephone service you provide. NM Finance has been using an out of office telephone service to answer our calls on evenings and weekends for some time now and I was surprised when you stated that the £350 we pay per month was rather expensive. I took the steps 6 weeks ago to change provider and not only is your service more professional, our clients have also noticed a difference in the quality and knowledge of the person answering their call outside of working hours. However I have to admit that the most pleasurable part of the transfer took place last Thursday when I received our first invoice- The total cost for the whole month was £125 and savings over a 12 month period equate to £2700. Thank you so much we are delighted with the service you have provided and will continue to recommend you to everyone we know. Kind regards Max Mace
NO-ONE KNEW I HAD GONE!
I'm Your P.A. was instrumental in facilitating a critical exchange of contracts which I effected in the restaurant car of an express train en route to Prague. The supreme accolade of course is from the client who says "I didn't even know you were away!" Many thanks for preserving my sanity and keeping me from divorce. I have no hesitation in recommending the services of I'm Your P.A. Without any real effort on my part, you provide cost effective peace of mind" Roger Gough
HSL
In early July 2015, I contacted Michele Ibbs from I' Your PA Limited, my question "can you clean our customer data base?" To my utter surprise Michele confirmed that "Indeed she could" Terms agreed, contract and confidentiality agreement signed 3334 customer details were handed over to Michele's team. The remit to identify the person in charge of purchasing, capture email addresses, ask if they still buy product and if so from whom. Within a day the first batch landed in my email box allowing a rapid update on our system of accounts that were no longer in business or had defected to another supplier and all the current details of the buyer from each company. The whole database was cleansed by the middle of October 2015 Total damage zero, new orders 497 to date (as a result of the clean-up), accounts no longer trading or requiring our service 1723. I would recommend I'm Your PA Limited in the future to any business that is struggling with time to cover the important task. My team are dedicated once again to sales and not to laborious fact finding. Thank you to Michele and her marvellous team for a job well done.
HR DEPT
I made the decision to outsource my call handling to Michele and her team at I'm Your PA. I should have done this sooner as this was one of the best decisions I have made. Whilst I do not get a huge volume of calls, being able to divert them when I am in meetings, working with clients and/or delivering training gives me peace of mind that my clients and potential new clients speak to a human being not a voicemail message. I never miss a call and never miss a sales opportunity thanks to I'm Your PA. The service provided also goes beyond answering calls. Michele and her team will also make any outgoing calls that I either do not have time to make or I don't like making such as chasing payment of invoices. Michele has made such a positive impact on me and my business, that I would like to say a big THANK YOU. You keep me sane and I recommend you and I'm Your PA to everyone I meet. She will never let me down! Denise Waite
JACOBS AND JACOBS WILLS
Dear Michele and Team, Testimonial Having used your services I can honestly say that I am not sure how I would have been able to service my clients to a high standard without the use of "I'm Your P.A. Ltd" During the last 12 months I have been able to increase my productivity knowing that my calls are in safe hands. This has been due to the efficiency and professionalism of your company. Even whilst I am on holiday your company ensures that my business calls are taken, appointments made and queries dealt with. I would have no hesitation in recommending your services to other businesses. Kind regards Steve Jacobs
ETC JULY 2015
Executive Training and Consultancy work with lots of businesses both big and small helping them to grow in a profitable way and in carrying out this service, I have dealt with lots of companies and therefore know and understand the needs of small businesses that are growing. Our purpose at ETC is to help your business, whatever size and specialism. On many occasions, I have worked with businesses that need outside support in running their business as they don't have the time or in some cases the wear with hall to dope with everything that needs to be done. In these situations, I have referred them to Michele at I'm Your PA and she has set them up on a contract with no fuss and immediately taken the pressure off so that the business owner had time to develop the business. My clients always speak very highly of Michele and her team saying they are very approachable, friendly and great customer service. I wouldn't hesitate to recommend I'm Your PA to any company who needs their service in the future! Doug D'Aubrey
Sign Up To I'm Your P.A. Limited Today!