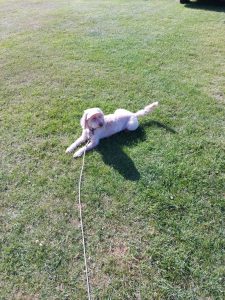 Happy Friday everyone! I hope everyone is ok and staying safe!
Where do I start, I haven't been in the office a lot this month at all because me and Mummy have been here there and everywhere. So, we've had no time!
Then when finally, our busy schedules slow down and covid hits the office! So, then we were back stuck in the house AGAIN! So that meant Mummy working from home and me not being able to see anyone in the office for cuddles for even longer now!
But I do secretly love isolation because it means I don't have to share my Mum with anyone else, I get her all to myself! I get to have lots of nice cuddles!
Isolation was soon over because of all the rules changing and Mummy is fully vaccinated, but we weren't hanging about, we were off to Shropshire for another camping adventure with Auntie Tina and Rosie Two! WOOF! I was so excited; I love camping with my bestie!
We were there for a few days and I loved every second of it even though the last few adventures we've had, the sun's been shining, it hasn't been like that this time but is has still been fun. I enjoyed watching Mummy and Tina try to pack down the tent in between the lovely British showers, that was keeping me and Rosie Two entertained.
I will let you into a secret, I was looking over Mummy's shoulder whilst she was on her laptop, and I saw that in a few more days we have another camping tripped booked! – it's a dog's life!
It's only a few more days until I get to cuddle the IYPA family – I hope everyone enjoys the bank holiday weekend!
Until next time lots of love Rosie One and Rosie Two xxx