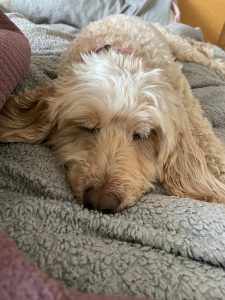 Hi to all my human friends!
I can't believe it; Mummy has left me!
Well… that may be a little bit over dramatic.
I am with my Auntie Nikki and Uncle Simon and my best friend Milo! They are looking after me until my Mummy gets back from her Coast-to-Coast walk, I can't wait to see her again! But for now, I don't mind because Milo's Mummy and Daddy (Simon and Nikki) really spoil me! I also love having sleepovers with my bestie Milo every day and playing with him!
I LOVE dinner time at Milo's house because I get so many different things like steak, scrambled eggs pasta and sausages and if I look at them with a tilted head and puppy eyes, I get dog food for pudding! At home I just get dog food, so I make the most of it when I'm at Milo's!
We have all been loving the hot weather, although it's meant early morning walks in the park for me and Milo because we don't want to risk having heat stroke or burn our paws on the hot pavement, remember not to walk your furry friends if it is to hot outside! In the afternoon we play in the paddling pool, I wasn't sure at first, but when Uncle Simon put doggie treats in there, I decided it was worth trying out! After being in the paddling pool I decided to have a lie down, Auntie Nikki wasn't very happy when I chose their bed to lie on – apparently, I should have dried off first!
Uncle Simon keeps a secret stash of gravy bones by the bed, so when me and Milo go up to bed, we get a good night treat. I waited until him and Auntie Nikki had gone out in the morning, and I snuck back into the bedroom, I managed to tip the jar of treats over and they all fell out – I sat and ate the lot, I think I ate too many though, I left any other treats that day.
Milo has human brothers called Dan and Adam, which is fascinating to me because I don't have any human brothers or sisters at home. So, at Milo's there are more humans to have love and attention off and the odd cheeky treat! Dan really loves me and never wants me to go back to my Mummy's house, I think he wants to keep me there with Milo!
I really love going to Milo's house, but I got so excited when I see Mummy has come to pick me up! But hopefully it won't be too long until I'm back at Milo's again for another sleepover.
For now, I am back reunited with everyone in the office and get double the cuddles because there are double the staff! We also have a photographer in the office, so I am showing everyone the ropes of how to look perfect for their photos (like me).
When it cools down, if you fancy a walk let Mummy know and we can meet up – don't forget the treats though – I will love you forever.
Until next time.
Lots of love Rosie xx