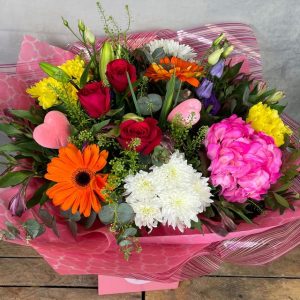 Nelly Kelly became clients of ours last November when they came to us for support with their beautiful florist business!
Time for a bit of history…
Their heritage started in 1871, and they have been creating blooming beautiful memories ever since!
If you are a Brummie, then you may have heard of Mary Sutton. She came from a dynasty of traders who first pitched up to sell blooms in Birmingham's Bull Ring market over 150 years ago. She was known as "Queen of all flower-sellers" whose time in the market spanned seven decades – we can assure you if you met her, you would never forget!
She would be working in all weathers – snow, sleet, rain – and used to leave home at 4 o'clock in the morning to buy flowers. She reached thousands and thousands of Birmingham and West Midlands people over her lifetime.
Mary, who was born in Balsall Heath and was living in Hollywood when she died, served the Queen and the Duke of Edinburgh when they visited Birmingham. She was very much a character and worked closely alongside her sister Kate building up Birmingham Florist. People would often liken them to the Cockney flower girl Eliza Doolittle from the classic musical, My Fair Lady.
Now fast forward a few years and Mary's grandchildren are running Nelly Kelly and continuing to do their upmost to make her proud and continue the family legacy!
The business name comes from the original flower girl, their great grandmother 'Nelly Kelly'.
They have been delivering flowers to the people of Birmingham before the commercial likes of Interflora delivery chains were even an idea. They do not deliver flowers for anyone else, so you benefit from no-mark up and no intermediaries taking a cut. They are Birmingham florists, for Birmingham and that will never change.
Nelly Kelly care about Birmingham and their environmental impact, so they use e-cargo bikes to do their deliveries within the clean air zone and all of their floral packaging is sustainably sourced.
As we all know 2020 was a terrible year for most people! With many individuals feeling the impact of COVID-19 for many different reasons. To recognise this Nelly Kelly gave away a free bunch of flowers everyday between 1st December and Christmas Eve.
For this you had to nominate a 'Bostin Brummie' and why they should receive the flowers, and tag Nelly Kelly on Facebook with the Hashtag #bostinbrummie.
They worked in conjunction with LoveBrum for these giveaways – LoveBrum is a charity that engages with local people and businesses to build an even better Birmingham.  They shine a light on hidden projects and charities doing good in the city. If you do not know about this charity, then we encourage you to have a look at their website and find out about all the bostin work they do. lovebrum.org.uk
This is why they donate flowers free of charge to all their awards do's and special events where Nelly Kelly's flowers say a million words. Nelly Kelly also encourages their customers to do a blooming good deed by rounding up their order by £1, which gets donated to LoveBrum.
If you are based in or around Birmingham and are looking to grab a lovely bouquet of flowers to brighten someone's day, visit Nelly Kelly or visit their website and get same day delivery!
Website: https://nellykelly.co.uk/
Nelly Kelly you are a joy to work with, we look forward to watching you continue to grow over the years x