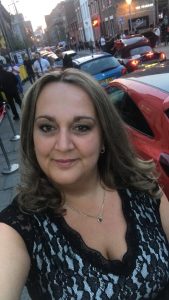 Marie must be one of the most selfless people I know, between her and Maureen Bryan, they run the Olive Circle Foundation, fundraising, organising volunteers and coordinate the "Giving A Gift" campaign. The foundation was launched in 2015 and the founders decided  no one takes a wage, they give up their time because they want to, because they want to help people in less fortunate circumstances than themselves; they will help the needy not the greedy
Each year The Olive Circle Foundation send out around 500 gifts to residents of nursing homes who never get visitors or Christmas presents. The campaign starts around October when they ask for donations of goods and boxes, then around the beginning of December a military style operation is organised to pack and wrap the boxes with all the goodies. Each box is labelled and put into a pile with any other gifts for the home. Next comes the delivery programme!
All the drivers are volunteers, giving their time and fuel without charge to take the hundreds of boxes around the Midlands and Staffordshire. The drivers are given batches of boxes along with neatly written slips giving all the location and contact details for the homes. Delivering the gifts is a wonderful experience, the staff in the homes and the residents are so grateful for the lovingly packed boxes, it truly is the start of Christmas.
If you would like to get involved with this or any of the other projects run by the Olive Circle Foundation, your help would be gratefully appreciated. One thing that is apparent from this year, they do have a desperate need for more drivers for Christmas 2019, this year the last 60 parcels ended up going out on Christmas Eve afternoon!
To get involved with The Olive Circle Foundation please contact Marie or Maureen on 01543 720303 or via Facebook or donate via JustGiving