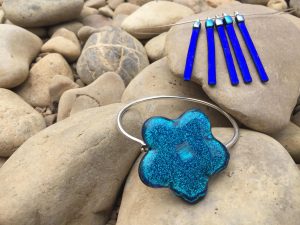 Emma Kirkham and Michele met through networking Emma is completely addicted to glass and Michele just loves her glass jewellery. Emma has designed two gorgeous necklaces in the pink of I'm Your P.A. and everyone comments on how beautiful they are whenever Michele wears them. Then of course there is always that person you don't know what to buy….
One of the clients of I'm Your P.A. wears very little jewellery but loved the necklace that Emma made in her branded colours, a beautiful bespoke gift. Emma also designed some cufflinks for another client, these had quirky logo of his business. There really is no end to Emma's talents, coasters as thank you gifts for teachers, or for a wedding party, Christmas decorations, even Memory pieces containing a few ashes of a pet that has passed away – what is so special is the fact that every piece is a one off.
Recently Emma has started running courses, Michele is really looking forward to attending the next one on 8thSeptember (Emma's contact details are below if you fancy going). During the 3 hour workshop Emma explains about the different types of glass and how they react allowing the attendees to create their own unique window hanging in glass, making the perfect gift for you to keep or give to a loved one. She also includes a unique glass keyring and 20% off any other glass purchased on the day. The course is designed for people like Michele too, the most she currently knows about glass, is how to fill a glass with Prosecco!
Emma will run the very similar courses for businesses as a team event, allowing the staff to work together and have a fun day creating something that they can have the pleasure of for years to come.
So Emma, thank you for the lovely jewellery that so many of us wear with pride and we wish you every success for the future – your glass is amazing!
To contact Emma the website is https://www.emmakirkhamglass.com, email info@emmakirkhamglass.comor on Facebook https://www.facebook.com/EmmaKirkhamGlass/
Eventbrite Link to course on 8th September 2018