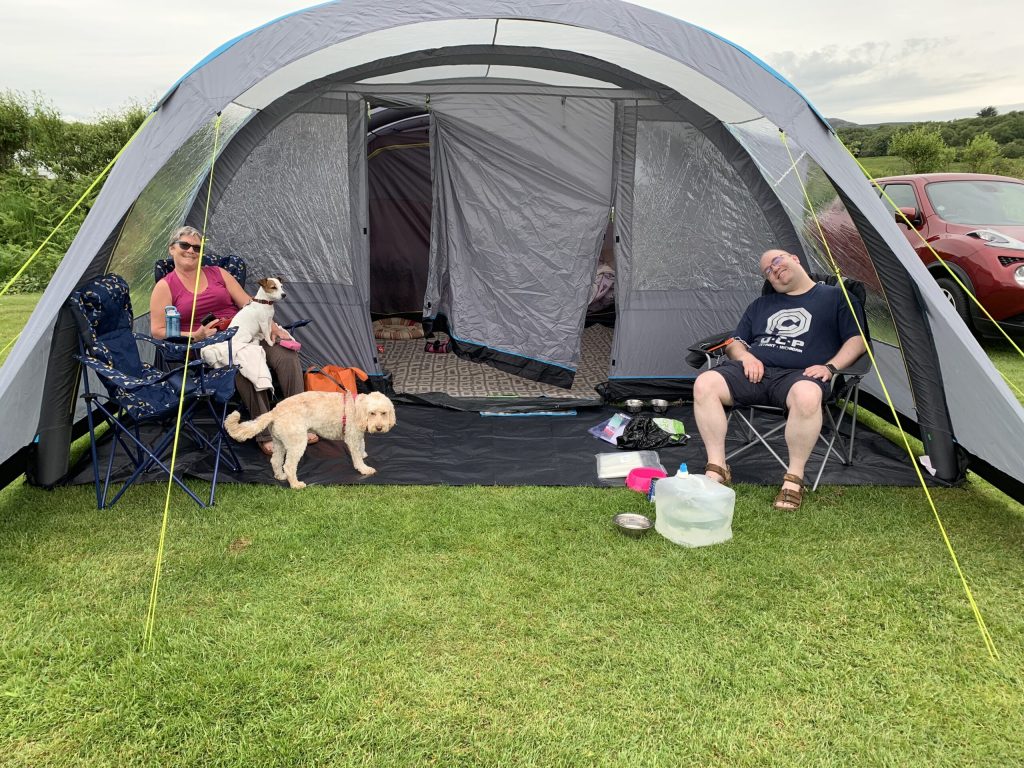 At the end of May Mummy announced we were going camping in Anglesey for a whole 9 days with Auntie Tina, Uncle Tristan and my bestest friend Rosie Two, it was such a surprise, but nothing like I expected! In fact I am not sure it was much like anyone expected!
With two cars all packed up and not an inch of room to spare we set off on Friday afternoon to sunny Anglesey, well that is what Mummy promised! I know Mummy was worried as we had to be at Dafarn Rhos campsite by 5pm and she was driving awfully slow because of the traffic, so slow we had to stop for me to have a wee! We did get there though, with a whole ten minutes to spare. It was beautiful, right by the sea, in fact Mummy let me get out of the car, it was a bit windy, but I lay down on a nice grassy spot and watched her, Auntie Tina and Uncle Tristan start putting up the tent. Ours is a very big tent, it's 23 feet long and 15 feet wide, Mummy was hammering in peg after peg – then it happened! Our beautiful tent gracefully lifted off the ground, Mummy tried to hold on, but off it sailed, high into the air, over the hedge and off to the beach!! It did look pretty from where I lay, just like a big blue and grey kite! I thought Mummy was doing a happy dance for a minute, but then I realised she had broken her finger trying to hold onto the tent!
Mummy went running off up the grassy slopes to get onto the beach, Auntie Tina couldn't run because she has just had her knee replaced and I think Uncle Tristan was in complete shock as he just stood there in amazement! I felt it was best to take a nap and stay out of the way whilst the grown ups decided what to do. About twenty minutes later Mummy came back with loads of people all carrying our tent, unfortunately it had a massive tear in it, so that was the end of that!
We were lucky that first night, the campsite put us up in a lodge, lovely and warm and waterproof! Next day I stayed with Auntie Tina and Uncle Tristan and Mummy went to get another tent. I took Uncle Tristan down onto the beach in the rain, I know he really enjoyed it, when Mummy asked him later what he thought of the beach he looked at her and "err, sandy?"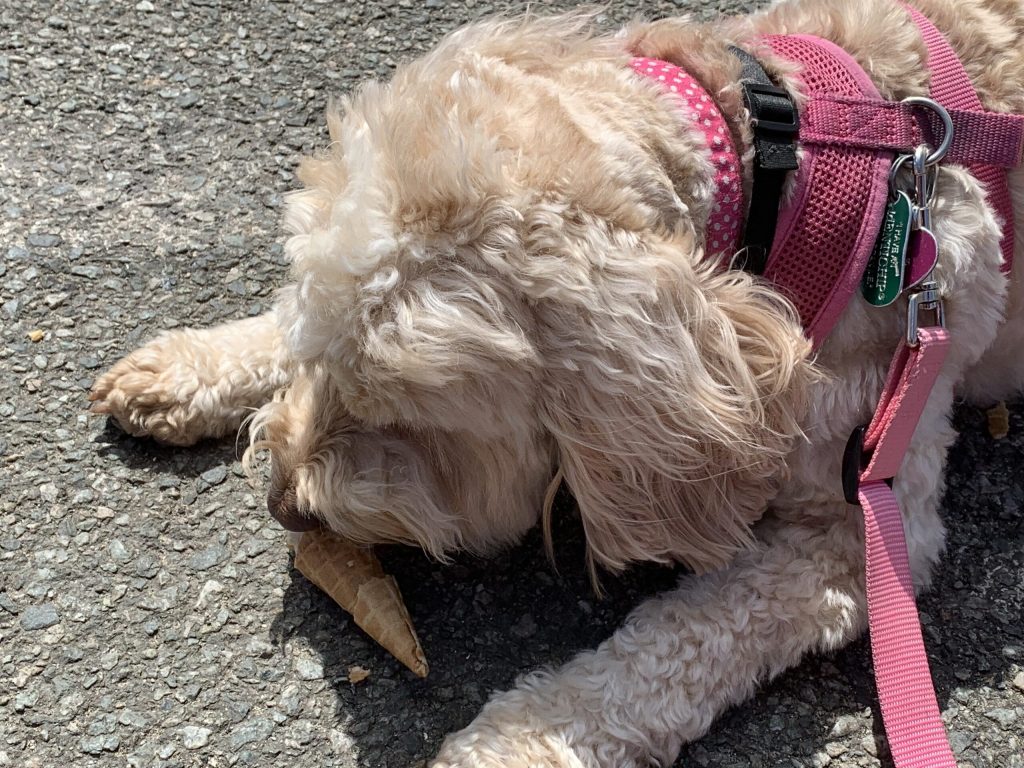 So by Saturday night we were all toasty warm in our new tent, it was great, every night I had three different beds to choose from. I was able to run for miles and miles on the beach, Rosie and I had our own little icecreams, we did forest walks, coast walks, beach runs, rolled in fox poo, all the things a pup loves to do on holiday.
One thing I didn't particularly enjoy was a trip to Bangor Pier. I don't think anyone realises how dangerous those pier things are, I could see the sea through the gaps as we were walking along, I got half way and decided to do the sensible thing, I lay flat and wouldn't move – it actually worked out quite well because Mummy carried me the rest of the way!
Anglesey is ever so beautiful and really green, I think this might be something to do with the two inches of rain they have every single day! Fortunately we did get some nice days, it was sunny at 5.30am most mornings when I woke everyone up, the rain never really started much before 8am and it nearly always stopped by 10pm.
The best part of going on a rainy holiday is the fact that Mummy is taking me away again soon to make up for it. I wonder what adventures we will get up to next time?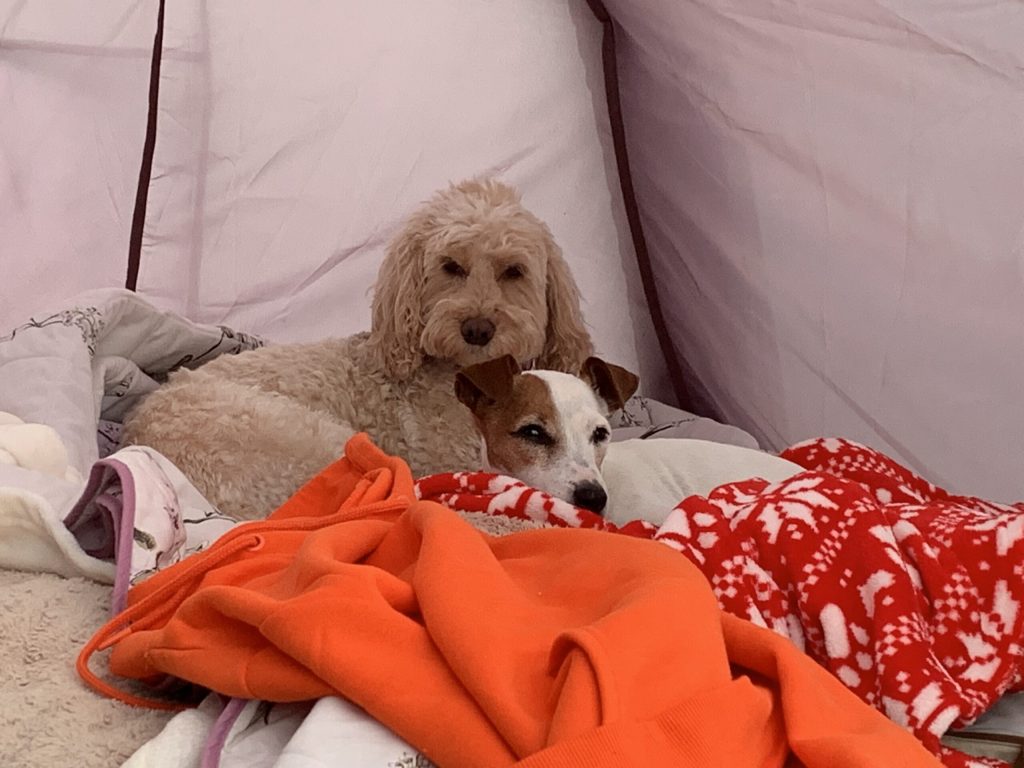 Until next time Lots of love from Rosie One and Rosie Two xx