I have to say that lockdown has not been too bad. When Mummy first told me she was going to do nursing three days a week, I was really worried – what would happen to me for 15 hours a day? Well I had fun!
The first time I went to Milo's house I wasn't too sure about him, but he was nice and played a bit. Mummy dropped me off on the Sunday night and she cried when she left, so I was sad too. I stayed over until Tuesday night. I really missed my Mummy at first, but once I settled in, I found Milo didn't have half the rules I had – he could sleep on the sofa for a start!
I soon learned that Mummy dropped me off every Sunday which was great because Milo's Mummy and Daddy cooked chicken on a Sunday, that was our treat! At home I get dog food out of a tin, but when I'm at Milo's house I can have things like gammon and pasta, sausages, bacon and then if I look at them with my head on one side, I also get dog food for pudding. 
Milo's Dad, Simon was eating crisps one night, Mummy always gives me a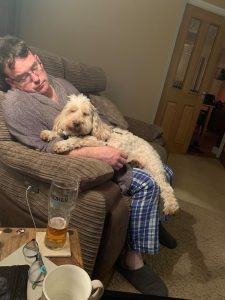 crisp, so I jumped up on his lap and had cuddles and crisps! One day Milo's Mummy put some beautiful bones, all wrapped in foil, in a bag, she was going to throw them in the bin!! What a waste! I asked Milo if we could have them, he said he never had bones, so I thought I would show him what he was missing! I carefully go the bag and removed the foil packages, then I undid the foil revealing the beautiful bones. I picked the biggest one and walked into the middle of the lounge and lay down to start eating it. Apparently I shouldn't have done that as these weren't for doggies, these were cooked bones, I wasn't told off, but they did take the bones off me.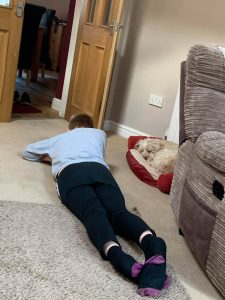 About 4am every day Milo's Daddy has to get up for work, so we jump up and wake him up, we wouldn't want him to be late! I'm not sure we are supposed to wake Milo's Mummy up at the same time, but she's very kind and never tells us off. Then there is Dan, he Milo's human brother, now he really likes me. When I get in my basket, he comes and lays down beside me. I know Dan really likes me, his brother Adam does too, but Dan never wants me to go back to Mummy's house, I think if he could keep me there with Milo, he would!
I really loved going to Milo's house, but then Mummy got poorly and stopped going to work, it was time for me to look after her. Every morning I would gently nudge Mummy and give her a cuddle, I stayed by her side and followed her everywhere until she started to get a bit better. Now I think she is nearly better, so I am hoping she will go back to work soon and let me go on my holidays to see Milo again.