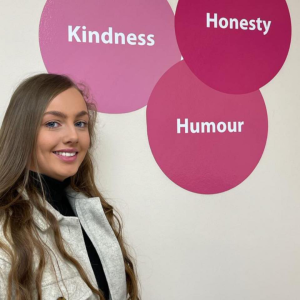 The latest addition to the IYPA Family, and I couldn't be more excited to see what the future holds for me within the business!
My first impressions of the business were great, but the very first thing that caught my attention was ROSIE the post dog! Being a huge animal lover, I couldn't believe there was a dog in the office, I thought it was great.
My first day I was greeted by Rosie for cuddles, along with all the team members. Every single one of them are brilliant and genuinely care which is great to be a part of, It's such a lovely work environment.
The values of the business came out pretty soon, as I know they pride themselves on being a fun team, they have certainly proved that already! Everyday there are laughs all around the office, it is great.
I am currently completing a Digital Marketing Apprenticeship with the business, managing their social media etc, I cannot wait to develop and expand my knowledge as the months go on.
I have great support around me here, especially Michele and James they've been nothing but lovely to me helping me every step of the way and obviously there's been plenty of laughs!
I cannot wait to see what the future holds with IYPA I am so excited to see how things will develop !