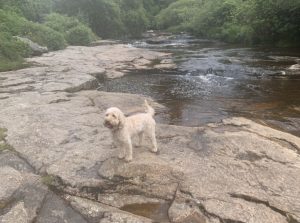 What an exciting time I have had! It all started after Mummy recovered from Covid19. A lovely lady called Linda Aitchison from Nuture Media called Mummy and asked about sharing her recovery story, Mummy featured in the Birmingham Mail and on Birmingham Local TV, I even got a look in on TV J my real claim to fame though was appearing in the Telegraph online, and hopefully next month my story will be shared in The Sun too – watch this space!
After all my fame it was time to take a holiday, so Mummy, me,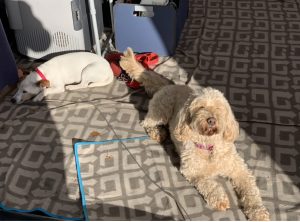 Auntie Tina and my best friend Rosie Two all went to Devon for a camping holiday. We walked and walked! We had a lovely 6.5 mile walk lanned for day one, I am not sure if the map was wrong or whether the grown ups read it wrong – but it was 10.5 miles! Then on day two we set off for Dartmoor for a lovely 5.5 mile walk, somehow that ended up at 7.5 miles! We even managed to get a trip to the beach where I played with lots of other doggis and Rosie Two barked and barked with delight.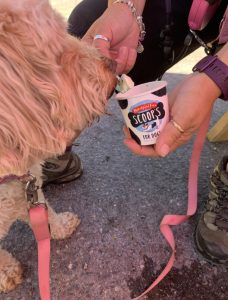 My favourite walk of all was the day before we came home, it was only a short walk and we had to stay on lead for a lot of it, but the best part was icecream!!! Yes at the end Mummy and Auntie Tina stopped and bought me and Rosie Two a proper doggie icecream, a WHOLE one each, that has to be THE best part of the whole holiday, that and sleeping on Auntie Tina's bed 🙂
The time went so quickly, it was sunny, Mummy won lots of games of Rummikub and Phase 10, so she was in a good mood and gave us lots of treats. I can't wait for next month because I saw on Mummy's calendar that Auntie Tina and Rosie Two are coming to my house for a few days, then we have more camping booked in September and October – it's a dogs life <3