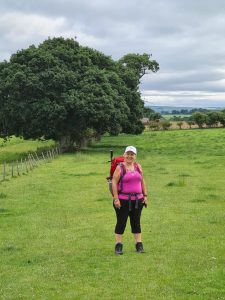 So this is it, day 1 of my journey from the west coast to the east coast following Hadrian's wall.
I agreed to do this with my business coach and friend Doug D'Aubrey back in February, after months of COVID restrictions it seemed a great idea, now at 6am on Sunday 10th July I am questioning my sanity!
Yesterday we travelled up to Carlisle, great journey, hotel looks fine, apart from the fact my toilet leaks every time I sit on it! Room would double for a sauna, even with the window open, but Carlisle itself is magnificent – well worth the visit.
Dinner was good and healthy, alcohol kept to a minimum (can't be hung over today!). An early night was called for, I think we were both tired from the journey, I went back to my sauna and packed my rucksack and must have been tired as I was asleep just after 10pm. I woke up, raring to go only to discover it was 1am – and the nerves were kicking in! By 6am I'd had enough and started to get ready.
Here I am waiting to meet for breakfast, contemplating. Will I manage today's 15 mile walk? I've done plenty of them, so don't know why I'm nervous about this one! Will I be able to do another 15 miles tomorrow? I've done loads of back to back walks, only last month I did a walking week with my friend Tina. Will I be able to walk fast enough? Doug has always walked with me, so why am I worrying now? What about the hills? Am I ready for this???
So far between us we have raised over £7000 for Acorns Children's Hospice, so backing out now is NOT an option, but those nerves are kicking in! I thought I was crazy walking the Grand Canyon north rim to south rim when I was 50 – that was 8 years ago, I've had COVID since! I know I shouldn't worry, the work I have done with Ben Mescam got me walking hills after COVID. I can do this!
I attach my "Big girls pants on" badge from the lovely Cheryl Emery, it says "Whenever you're facing a challenge ahead, don't hide in the corner or go back to bed, Let this pin be the thing that reminds you today that things will be fine and you'll be okay. Whenever you wear it, wear it with pride knowing I'm there right by your side" – let's do this! Squash the nerves, time for breakfast!
The taxi picked us up at 9am and dropped us at Bowes's on Solway, we got our stamp for our Hadrian Wall passport, looked for the sea – nowhere to be seen, and set off. Mile after mile of road walking, my least favourite walking ever!
I would love to wax lyrical about the beautiful scenery, the monuments, views of the wall – but there was bugger all! It had to be done so we can say we have walked coast to coast – but fifteen miles later, virtually all road walking, I admit I was near to broken! Then England lost in the final too! Tomorrow is another day!!
Virtually Yours
Michele xx