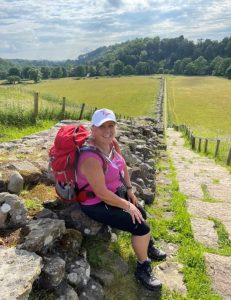 Coast to coast Day 4
Feeling totally refreshed and having eaten a hearty breakfast we are off – today might be a bit tough, 11 miles with hills, I keep telling myself, it will be fine! First mile is spent walking back to the path – I bet they didn't include that in the 11 miles! Maybe this is a good time to say our fellow walkers all seem quite surprised at how far we are walking today!
We take the route towards Walltown crags, past the beautiful Thirwell castle which although it is a ruin is very beautiful (cue Doug and camera!) climbing we continue on up to Walltown crag. The climb up is steep but doable and the views incredible! The preserved wall at the top of the first crag starts to put things into perspective as to what a huge construction this wall was.
Passing from Walltown crag we have to drop sharply before a steep ascent to the next crag, there are three in total. I must admit two and three were steep ascents and I struggled! But I did it! Now in my mind I had just walked to the highest point, Winshield crag – how wrong was I – that was just Walltown crags, all three of them!
Dropping down into Cawfield Gap we take a quick break, and I see Winshield Crag, standing much higher than Walltown Crag, with about six steep hills before it!!! With the sun blazing down, sore legs that are already tired of climbing hills, we set off again, although it is quite obvious that we will not be able to make the 4pm taxi at Housesteads. I think this was the point I really started to struggle, mentally and physically.
We climbed and climbed, Mucklebank Crag, then Cawfields Crag, every time I thought we had reached the top, another crag came into view! Many of the crags have steps situated along the path to assist, great if you are 6ft tall, but at 5ft 3 inches it's a totally different matter! As we started on the final climb to Winshield Crag I was done! A lady came strolling up behind and I stood to let her pass, she started chatting to us, she could see I was really struggling, slowed her pace and chatted to me as we walked – I will always be grateful for what Nicky did, step by step she coaxed me to the top of Winshield Crag. Finally, I had reached the highest point, and I'm not ashamed to say I cried! At least everything from here is downhill – well that's what Doug told me!
By now it was 4pm, we still had another 4 miles to go! Nicky said her goodbyes and walked on. With legs like jelly, we started the descent to Steel Rig car park. It was probably just as well that Doug had the map, after Steel Rig there are still a few other crags to climb before getting to Housestead!!
As we came down to Steel Rig car park there was Nicky taking a break, she said she was waiting to see if she could join us to go to Sycamore Gap, she must have realised that the next climb would break me all over again! Slowly but surely, step by step we climbed Peel Crag before dropping down to Sycamore Gap, it was stunning in the sunshine. Once again, we said our goodbyes to Nicky and continued on to Houstead.
We climbed Highfield Crag next, then Hotbank Crag, to be honest all the crags seem to look like each other to me, just one hill after another, drop down in between then climb again! Finally, we arrived at Housestead, only to discover we had a further half a mile to the car park!
In summary day 4 was stunning, tough and emotional, we did it – not sure how! Tears, tantrums, grit and determination and help from Doug and Nicky. On arrival at our beautiful B&B, quick shower, beer, food and bed. I think it's fair to say that was the toughest walk of my life! So much for 11 miles! 14 miles 44,000 steps today alone, and according to my Fitbit it was 451 floors of total climbing or 4510 feet.
My legs and back are painful, I feel broken and tearful! A good night's sleep and we're off  again tomorrow 😂😍
Virtually Yours
Michele xx