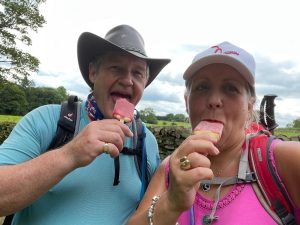 Coast to coast day 3
Surprisingly, I woke with no pain!
Today we will be moving on to more new accommodation, so before breakfast we both pack up and get rucksacks ready.
We've discovered that if we have a full English breakfast, we really don't need to eat during the day, and the Scott Arms sure know how to cook a breakfast! We are picked up at 9.20am and head back to the snack shed to pick up the walk where we left off. Today is only 10 miles, we are walking Newtown to Gilsland, we will be climbing a bit, 1000. Feet overall – we are off to see the wall!
The countryside is amazing, my legs and feet feel good, and the sun is shining – what more could a girl want?!
The scenery today just could not have been better, we took a slight detour down to Lanacost Priory, OMG – it was stunning! What made it even better was the AMAZING freshly baked fruit scones, served with cream and jam!
The walk back up from the Priory sent us on a detour as the road was closed, that made no difference to Doug, he just moved the barriers slightly and we walked through! The climb up had started!
Continuing along we met up again with our Norwegian friends, they too were aiming for Gilsland. There are so many lovely people walking the route, all doing different time schedules from 4 to 12 days – 12 days sounds good, shorter walks 😂
The Hodfather was another interesting guy, he started on Sunday with us, carrying a hod of bricks wherever he goes, all for charity, not an easy task!
Finally, we get to Banks, this is 32 miles into our walk – and there it is – our first glimpse of the wall. Spectacular!!! At this point the wall was an actual structure as opposed to a mud bank, it is still only in short sections as much has disappeared. Continuing from Banks we aim for Birdoswald for our next passport stamp and the Roman fort.
Birdoswald is quite spectacular with lots of archaeological digs going on, whilst Doug went off camera in hand to capture the beauty of it all, I sat to rest my tired legs! One thing to note when doing daily hikes like this, mini breaks are great, just don't rest too long! Trying to waddle to the loo before we set off again was both painful and comical!
Next stop Gilsland, Brookeside b&b, whilst my feet have been pain free today, I really cannot wait to get my boots off, shower and go for dinner! After a long and enjoyable 13 miles we arrive at our accommodation- I'm guessing the planned walk lengths are all only a guesstimate 😂 well we did take a small diversion to the Priory.
Showered and ready for dinner I discover it is another half mile walk downhill, and we all know what that means, half a mile back up hill after dinner!! At least that is doable in fitflops! I will certainly sleep tonight! What a fabulous day, and tomorrow we will be off to see the crags, Steel rig and Sycamore Gap, before being picked up at 4pm by taxi from Housesteads museum. Time for sleep!
Virtually Yours
Michele xx