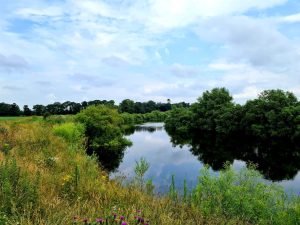 Coast to Coast day 2.
It will be fun they said. Just think of the achievement and the money raised!
I woke at 4am, tried to get up to go to the loo, and I couldn't! The pain in my right heel was serious! I lay doing exercises and stretches until it was time to get up. Third attempt to go to the loo was successful 😍
Another full English breakfast and we were all set for day 2. Today is a mere 9 miles, not sure if that includes the mile from the hotel to the route, guess we will find out later!
At last pretty countryside and cows – this is a vast improvement on yesterday! I have managed to get a rather large blister on the edge of my right big toe, covered with compede it should be ok! The first three miles were quite fast paced, then we came across a couple from Norway, we walked alongside for another three miles, fascinating couple.
Doug and I stopped at an honesty cafe, these are all along the route. They have food and drinks, you just pay for what you have. We sat down with a cold coke, and that's where I first noticed it – my split boot! It's no wonder I had a blister! We made it to Newtown by 2.30pm – it was ten miles, not nine! We chilled at another honesty cafe waiting for our taxi.
Today has been fun, yes I ache like hell, my blister is so big, I have had to burst it. My legs no longer feel they belong to me and my boots are scrap! We have amazing accommodation at the Scott Arms in Brampton and everything is geared around hikers 😍
So two days complete, still no sign of Hadrian's wall! In this area it was just a dirt mound which has long since disappeared! Tomorrow we will start to climb and get our first views of the wall. As for tonight I've had a lovely dinner, and now I ache , I think it's time to rest my weary body! Let's pray for a great day in every way 😍
Virtually Yours
Michele xx