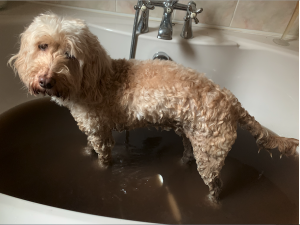 Hello everyone, it's Rosie here, it seems ages since I was in touch. I haven't enjoyed the cold winter months very much as I hate going out in the wet, although I have had fun in the snow! Now Mummy is training for the coast to coast walk, I am getting some long walks in – but I have been getting a little muddy!
The first 10 mile walk Mummy did as part of her training for the coast to coast walk I was so muddy at the end that she had to stand me in the bath and soak it all off – it's not very dignified you know! Personally I prefer a warm bubble bath, you should have seen the state of the bath afterwards too! We will be doing lots of walks over the next 21 weeks, but I am not going to go with Mummy on the big walk, it sounds a bit much for me. Instead I am going to stop with my friend Milo and his Mummy and Daddy – they spoil me 🙂
It has been nice to be at home with Mummy during lockdown, but I do miss all my family in the office, they really give the best cuddles. I am hoping that it won't be too long before we can start seeing people again, for walks, barbeques, anything really that involves people giving me treats and cuddles. I have had fun out in the garden, I have also learned that when it is raining, if I stand by the door and refuse to go out, eventually Mummy will go out first and stand in the rain waiting for me to have a wee – it's a brilliant new trick of mine 🙂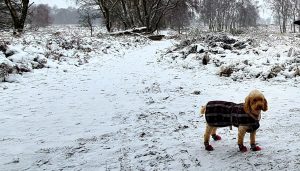 As spring sets in apart from all the walks Mummy will be busy with our vegetable patch, personally I have always found vegetables a bit over rated and boring – give me a sausage any day! So I am seriously excited to hear that Mummy is going to be growing sausage trees this year, just for me. I can guarantee I too will be out whenever she is gardening, I will also be reporting back on the progress of my sausage trees – who would have thought you can grow them.
Anyway if you fancy a walk, let Mummy know and we can meet up, only one other person at the moment, but soon up to six of us can meet – don't forget to bring the treats, I will love you forever.
Bye for now
Woof
Rosie xx