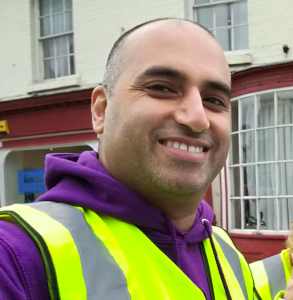 Ok let's start by getting it out there – I am NOT a fan of workwear! Why? Because I don't like shirts, T-shirts or polo shirts – they just don't suit me! So why am I introducing you to a workwear company? Because Rav will brand ANYTHING!! 🙂
Now the beauty of workwear is it can be claimed back through work and it does mean you can wear your brand, so why don't the workwear companies come up with some more flattering designs?
At last I have found the answer! A company that will brand my own clothes – yes!!! I get to pick the design of clothes I want to wear, they put my logo on them, and it covers all sorts. Even better, whatever is branded is classed as workwear, so the cost can be claimed back! Apparently even my pink Radley leather handbags can be branded J
Nothing is too much trouble for Rav at Contract Clothing, he has resized my logo so it can be used for subtle branding on fine fabrics and suits, colour matching is easy, reversing the colours so the pink logo can be done in black to stand out on pink clothing, it is all part of the excellent service he provides.
Rav is also renowned for the intricacy of his work, people who have been told that there logo could not be used on clothing because it was too detailed, have since had the most amazing items produced – because nothing is too much trouble. Recently one of my clients had a new logo designed which involved different shading of colours, even the shading has been captured in an embroidered logo.
With Contract Clothing the branding doesn't stop at workwear, Rav has previously branded push chairs, bouncy castles and cushions for a yacht to name but three unusual items. In fact, Rav boasts he can brand anything, so why not set him a challenge? Personally, I have yet to find something he cannot brand!
So if like me you would like to take advantage of claiming back your suits, jackets, tops etc through work, I definitely recommend a chat with Rav. For those in the branding industry, I also recommend a chat with Rav, as he does a lot of work for the trade also, producing the work that they struggle to do.
Finally if you are involved with a sports club, why not take advantage of the websites he produces for clubs where members can go on-line and purchase the branded kit? It means the club doesn't have to tie up valuable assets in stock of kit, the kit is sent out in a timely manner and they also get a commission on all the kit sold.
For more information about Contract Clothing go to the website www.contractclothing.co.uk or ring 01952 306220