Throughout my nursing and Coronavirus episode there have been a few people who have made sure that I stayed on track, Simon and his partner Nikki being two of them. Faced with the prospects of no longer being able to work as a gas engineer due to the lockdown, Simon and Nikki converted their plumbing supplies and hardware shop and have become the centre of the community delivering fruit, vegetable, cleaning and gardening supplies to their elderly client base – and me!
We hear of people who have "pivoted" their business due to Coronavirus, and Simon and Nikki have done just that. Having a gas engineering business which rapidly ground to a halt, and a hardware store that also sells gardening supplies, the couple decided to extend the hardware store to incorporate fruit and vegetables.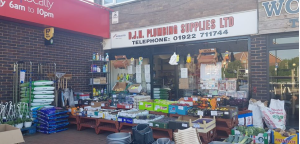 At first there were just a few veg, apples and oranges, however as time has gone on the colourful array outside the shop has grown and grown. There are currently twenty six different types of vegetables and thirty one different types of fruit, along with all the cleaning and hardware items and gardening supplies.
Simon and Nikki were so concerned about their older client base that they commissioned I'm Your P.A. to call everyone to check they were OK and to offer to deliver fruit and vegetables to their homes under strict social distancing rules. It hasn't all been plain sailing for them though, it seems that a couple of people resented their success in the fruit and vegetable industry, these people then sent complaints to environmental health and trading standards. Each time a complaint was received, Simon and Nikki worked openly and honestly with the government body, and every time they were told that everything they were doing was to standard. It's a shame that some people are so spiteful about the success of others.
I believe at the end of lockdown, many of us will appreciate these local shops and prefer to stay with them. I know I will continue to buy my fruit and veg from Newts, Fruits & Roots for as long as they carry on selling it. What buying habits have you changed during lockdown, and will you stick with them?
To contact Simon call 01922 711744 or visit the Facebook page